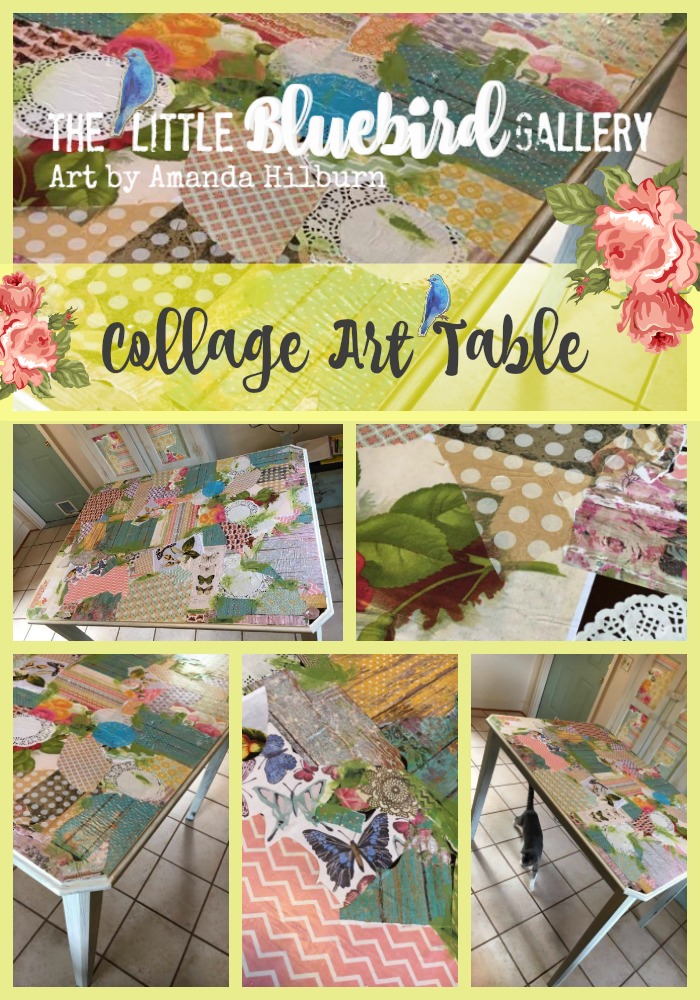 Fixing It Up: My Collage Art Table
I just moved an old table into my studio and fixed it up with scraps of collage papers! It is the perfect height for standing and working, and I like to stand when I paint.
The best part is that this table was totally free! It was left here in the house when we moved in. Here are a few photos of my process and I also did a little Facebook live video while I was working on it. I'll post that here for you, too.
This is what the table looked like before. Its just a cheap table with a dark finish. I began transforming it by painting the legs and the edge with some chalk type paint that I had left over from all the home projects that I've done lately.
Using my trusty chip brush, I got a quick coat of paint on everything that I wanted to paint. I also got paint on my shirt….again, and thought I'd throw in a reminder for you to put on your smock or apron or old clothes beforehand. Over half of the clothes that I own now have paint on them. So….Do as I say, not as I do 🙂
Here's where the fun really began! I started taking scraps of paper and gluing them down using Mod Podge! Here's a video from the Facebook Live that I recorded. You can watch all the messy fun here:

I am LOVING how this turned out, and as I use it, textures and paint will get mixed in layers on top adding to the unique character of this table. I think it's dreamy 🙂
This little part is my favorite piece of the collage…
It's a little wrinkled, a little messy, and a lot of happy! Have you ever transformed an old piece and given it a new purpose? I'd love to hear about it, if you have!
If you'd like to give this a try yourself, here are my affiliate links to supplies like I used.

Have a great week!
To see more free creative ideas go here: Free Printables and Lessons