a palette knife painting course
with artist Amanda Hilburn
everything you need to
know about painting with a palette knife
You are about to begin a beautiful journey to freedom, expression, and all things palette knife!
This course will teach you how to paint five different flowers, three complete landscapes, a large floral, a minimalistic floral, combine brush and knife work, and so much more!
You'll PRACTICE PAINTING....
You will learn to loosen up, paint in a painterly style, and enjoy the freedom of the palette knife!
13 modules containing multiple videos in each module
self-study lessons that you may work through at your own pace
continued access to the course for the lifetime of Amanda's business and website
learn to paint: mountains, water, clouds, flower fields, sunflowers, roses, lilies, hydrangeas, bird of paradise, lemons, 3 full landscapes, 2 full florals, and so much more!!
 $97.00 through 12/31
One time purchase
Purchase the full course OR join my Creative Community membership and get the course included in your subscription! Find details about the membership here. Creative Community Info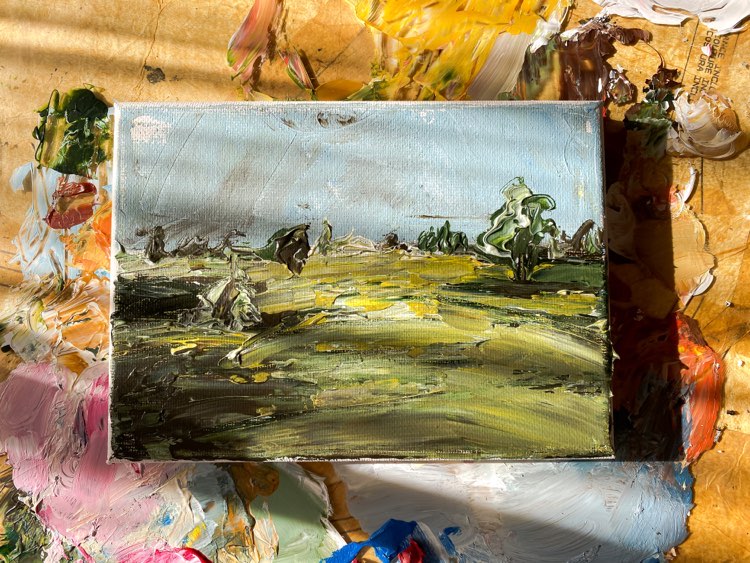 Debra K. says:
Amanda Hilburn's new palette knife course is a winner. As a second year member in Amanda's Creative Community I would like to send her a huge THANK YOU for this new course. The accessibility to all of these videos in one course is amazing.  This course is extremely easy to navigate. You can watch and work at your convenience. Amanda has made 13 module's each containing separate lessons on color, composition, combining brush and knife, practice videos and so much more.  47 lessons combined. WOW !!!  Way to go Amanda.
Debbie H. says: 
I have done the pallet knife course. Finished it this morning . It was excellent with so much information. It will be a ton of knowledge. I loved it. Thank you so much. It's great that we can return back to it also.
Sandra W. says:
When I first started the course, I wondered why so many short videos; but then I realized the individual videos allows a person to go back and revisit parts without trying to find segments in a long video. This style of teaching is so good for people who need to revisit training sessions. Well done!
Kellyn T. says: 
I love the simplicity of this course and all that have you added to it for beginners, intermediate and advanced artists.  Anyone can follow along and create a beautiful painting as a result.
New Updated Format! Take a look...