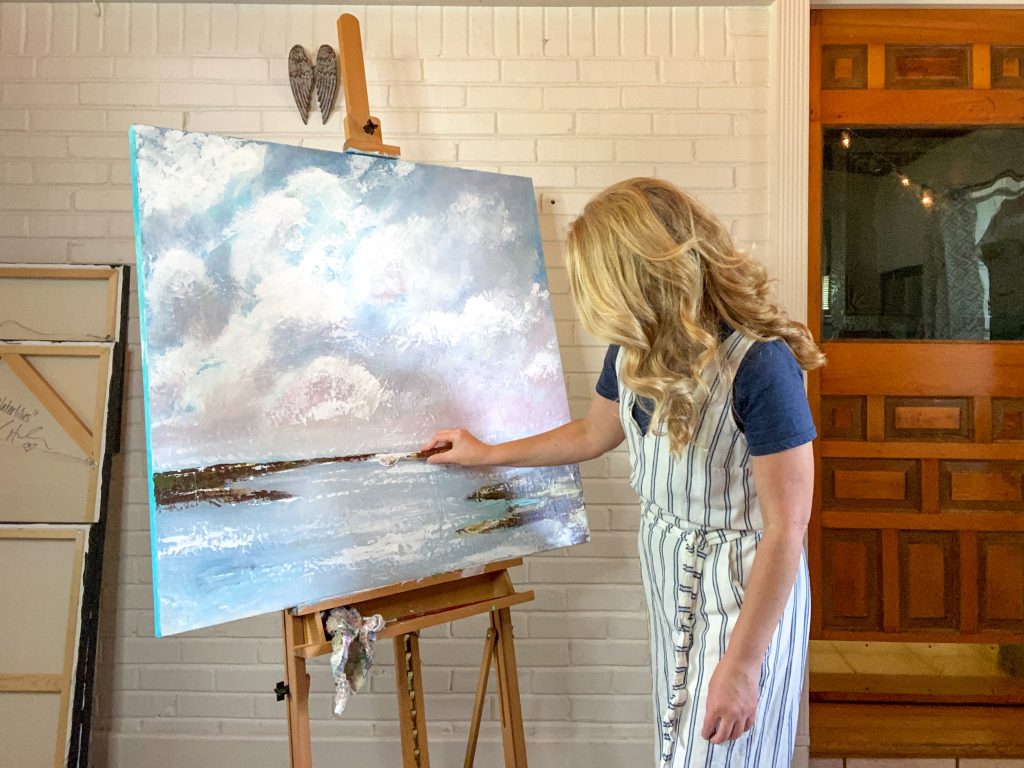 Hi there, friend.
I'm Amanda, and this is my story!
I'm a mixed media artist, and I love to use a variety of mediums on a canvas to bring an unusual twist of texture to my pieces. I most often paint with acrylics using a palette knife, but I might also add bits of vintage paper clippings, doilies, fabric, lace or other items to bring an unexpected pattern or structure to the surface of the canvas.
I want to share my story with you because I know that it is a blessing that needs to be shared. My prayer is that it will really encourage you!
Art has changed my life, my family's life, and the lives of many other people along the way….here's my story.
My Story
I'm a Southern girl from Alabama. I grew up in a small town in a wonderful home full of love and encouragement.  My mom is very creative and crafty. We always had some kind of project going, and my dad was a nature lover. He always pointed out little things outside that I still notice now: sunsets, clouds, birds, and just the beauty of God's creation in general. Looking back I can see how they both contributed to my love of creating.
In high school I really had problems trying to decide what it was that I wanted to do. I made good grades and all of my teachers encouraged me to go to college. However, college was not really interesting to me…at all. I went and tried it but dropped out, got a job, got married, and had two sweet babies instead of paying for a degree in something that I hated. I was content and a very happy homemaker for many years. When our daughter was old enough, I began homeschooling her. The years passed, and I kept teaching both of our children at home.
We learned all sorts of new things (I learned too because everything looked so different and more interesting to me at this point in my life).
One of the things we added to our day was art, and I found that I loved researching and teaching the kids about art! It became my favorite subject.
So after a little dabbling with art in homeschooling, I got brave enough to try painting something for our living room wall. I didn't have the money to buy something as large as I wanted to hang over the couch, so I just made something myself! I painted a big black tree silhouette with a sunset in the background on a huge piece of paper and framed it. It wasn't the most beautiful painting on earth….but it was so much fun! I shared what I painted with my friends on Facebook and got so much encouragement! That's where it all began…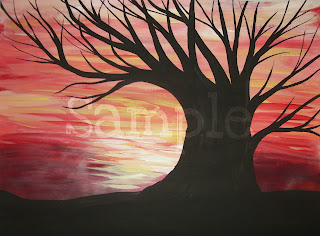 ---
Accidental Artist and Entrepreneur
I guess you could call me an accidental artist and entrepreneur! I didn't go looking for an art business. It found me. I went from homemaker to full time artist in just a few years! Y'all, I am making real money with this! I'm talking about a full time job that is helping my family financially in ways that I never could have dreamed of! (The internet can be a great blessing!)
Everything really evolved from that one painting and my tiny bit of blogging experience that I had gained because of homeschooling. I started blogging about art, got on Etsy, and kept on painting. A few years later, I learned how to create my own website where I now sell my work and teach art lessons (which is where my heart is!!) . I was contacted about illustrating a children's book and am licensing some of my work. I've had prints of my work sold across the USA in Kirkland's Stores, gift shops, and specialty boutiques! I have had phone cases being sold online and pillows in gift shops!
It's really crazy how this all happened. I didn't know I wanted this, but I don't think I could do without it now. I am a very shy and introverted person, so I've had to really push myself to find the courage to keep growing and follow these new and unexpected dreams. In the process, I've learned so much about myself and how creativity can change your life. It's my biggest wish to help others see their potential and know their worth.
I am passionate about the reality that creativity can play a big part in your overall mental health. I truly believe that art is so much more than home decor. It is a much needed escape from the chaos of life. Art is a spark of joy in a world of unpredictable events. It is sometimes the life line that holds us when we feel like nothing in our lives is going the way we thought it would. Aside from my deeply rooted faith in God, art is a necessity to keep my sanity on this side of Heaven.
Pursue Your Dreams
I want to encourage you to pick up a palette knife or a brush and dream big! Pursue your dreams, and never stop learning! I would love to show you the basics of painting, help you find the joy of a creative life, and if you are interested, start finding ways to look for professional opportunities with your art!
There are several things here on my website that I have made for you to help get you started.
You can find my original paintings and more in my shop: Shop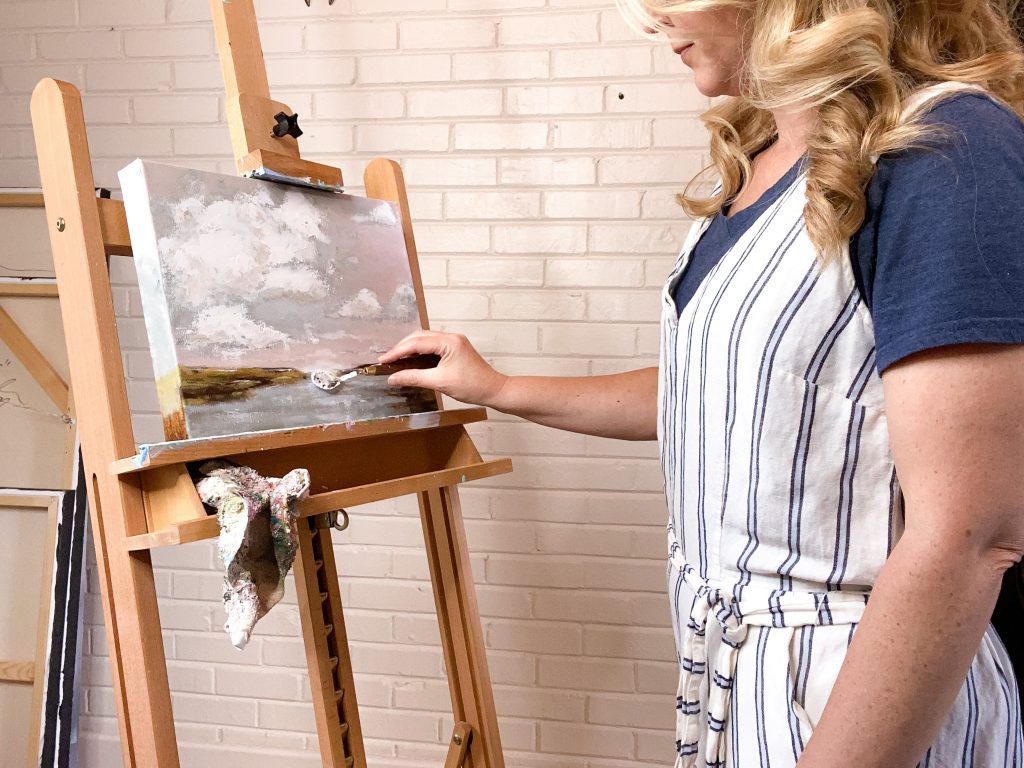 If you'd like to get to know me even more, you can follow me on Facebook or Instagram for daily peeks into what I'm painting in the studio, as well as other inspirational offerings and ideas throughout the day.
Check out all of my Art Lessons that I offer online! Teaching and inspiring others to create is what I love to do most.  I'm always brain storming ideas for new things to offer to help others, so be sure to check back often!
P.S. Here's some of my recent work…(I've learned a lot since that black tree painting 🙂 )
My artist's journey has been an exciting and very unexpected adventure. I'm so thankful for the blessing of art and creativity, and the opportunity that I now have to teach others!
Thank you for allowing me to share this with you, and I hope it will inspire you in some small way.
Blessings to you!

Amanda